We're proposing changes to regulations for window safety. The aim is to stop children falling from windows in NSW homes.
Tragically, there have been many incidents of children falling from windows. When this happens, children often suffer serious injuries or die. The NSW Deputy State Coroner has recommended stronger safety requirements for windows to stop this.
To introduce the changes we propose, we would amend the Environmental Planning and Assessment (Development Certification and Fire Safety) Regulation 2021 – also known as the DC&FS Regulation.
We exhibited the proposed changes for public comment from 24 July until 21 August 2023. We are currently considering the feedback that was provided to help inform the final proposal. You can read more about the exhibition and view the discussion paper on the NSW Planning Portal. 
Proposed changes to window safety requirements
The changes would require homeowners to install safety devices in high-risk windows in most types of homes, such as houses and townhouses and including older homes.
High-risk windows are those that:
can be opened and are less than 1.7 m above the floor of the home
where the floor is 2 m or more above the ground outside.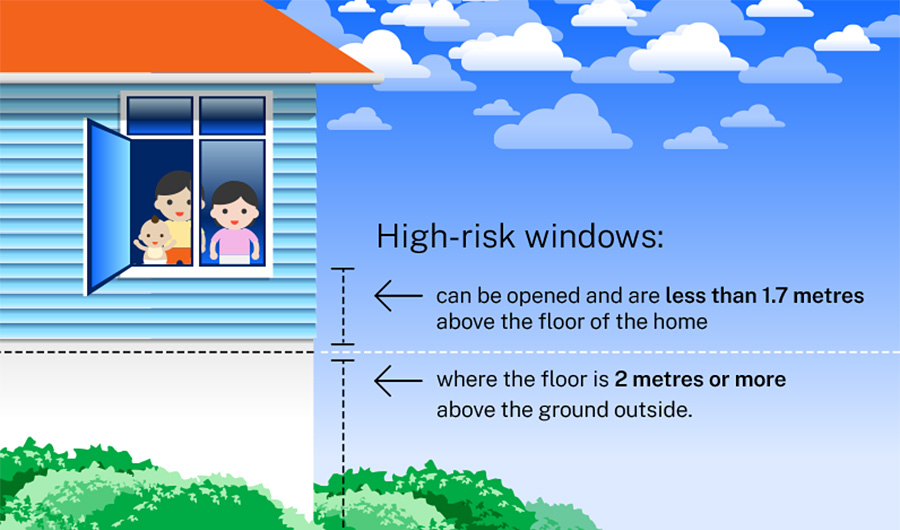 Currently, requirements for window safety devices apply to high-risk windows only for:
apartments covered by strata schemes
homes built since 1 May 2013 (bedrooms only).
Window safety devices
Window safety devices include screens, locks, or any other devices that:
limit the window opening to less than 125 mm
stop people from forcing windows open (resisting up to 250 newtons of force – equivalent to 25 kg)
have child-resistant release mechanisms – if someone can remove, override or unlock the safety device.
Homeowners can buy these devices from hardware stores or online. We're proposing that professional installation would not be mandatory.
These changes would make homes in NSW safer for children at a low cost to homeowners.
Compliance
We all have a role to play in making our homes safer. Under the proposed changes, property owners would be responsible for purchasing and installing window safety devices. We are seeking feedback on options to achieve compliance with the proposed regulations.
We're proposing a transition period of 18 months after the changes to legislation start. This is to give homeowners enough time to install devices.
If you're selling or leasing a home, you'll be required to install safety devices on high-risk windows if the settlement or lease start date will happen within 6 months of the transition period ending.