The Strategic Planning Toolkit is a hub for resources to support local councils and planning professionals in LEP making.
The aim of the toolkit is to provide guidance on LEP making and to assist in the implementation of the goals and directions contained within the Regional Plans and the five District Plans.
The Strategic Planning Toolkit will provide an up-to-date resource for local councils and planning professionals to employ best practice planning across NSW.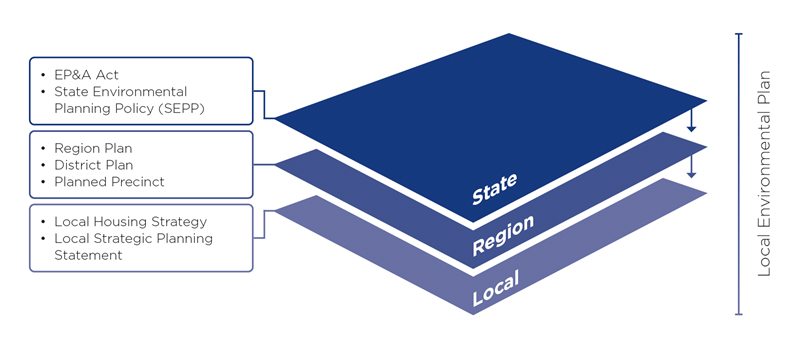 Local plans
Local strategic planning statements
A Local Strategic Planning Statement (LSPS) sets out the strategic planning ambitions for a LGA as a whole and for specific areas. The LSPS allows councils to translate their strategic planning into local priorities and actions and identifies the need for further local strategic planning work.
Learn more about strategic planning from the updated Environmental Planning and Assessment Act 1979.
The LSPS Guideline for Councils (PDF, 2.6 MB) provides information for councils, the community, and other stakeholders on the contents of a LSPS, how it is made and how it is implemented.
Local housing strategies
Local housing strategies are detailed strategic and implementation plans that show where and how new homes are best developed in each local government area.
Learn more about local housing strategies.
The local housing strategy guideline provides a step-by-step process for producing local housing strategies.
Endorsed local strategies
Local council strategies that are endorsed, in full or part, by us may be used:
to demonstrate the strategic merit of planning proposals;
by planning panels or the Independent Planning Commission to determine whether a planning proposal being considered for a rezoning review has strategic merit;
by the planning proposal authority to justify inconsistency with certain section 9.1(2) Local Planning Directions.
Endorsed local council strategies are listed below for each region, and endorsement letters are attached. Only the version of the strategy at the time of endorsement is considered endorsed not subsequent amendments.
Sydney Metropolitan
Northern Region
Western Region
Southern Region
Hunter and Central Coast Region
Policy and ministerial directions
State environmental planning policies
State environmental planning policies (SEPPs) are instruments that address planning issues on a state-wide level. This is different to a LEP which addresses planning controls for a local government area.
Planning proposals must provide an assessment against the relevant SEPPs and advise on how a proposal may satisfy the requirements of a SEPP. 
The current list of SEPPs is located at legislation.nsw.gov.au/browse/inforce.
Ministerial directions
The s9.1 ministerial directions cover the following broad categories:
planning systems
biodiversity and conservation
resilience and hazards
transport and infrastructure
housing
industry and employment
resources and energy
primary production.
Current and previously issued s9.1 directions
The following documents provide advice on ministerial directions issued under section 9.1 of the EP&A Act.
Directions for planning proposals
Directions for local infrastructure contributions
Directions for planning agreements
Requires all councils to consider a series of matters when negotiating a planning agreement with a developer for the purposes of affordable housing in connection with a development.
Resources for section 9.1 Integrating Land Use and Transport
Relevant planning system circulars
Guideline
LEP Making Guideline
The LEP Making Guideline will help you understand the LEP making process and how to prepare a planning proposal.
Supporting information
Resources
Donations and gift disclosure
All planning proposals and draft LEPs must comply with State law regarding reportable political donations. For more details, including a disclosure form, refer to:
LEP practice notes
Planning practice notes provide updated commentary, guidance, and advice for planning matters generally related to principle local environmental plans and the Standard Instrument. A practice note is for information purposes only and does not comprise legal advice.
Contributions practice notes
Planning agreements practice note
Mapping standards and requirements
Parliamentary Counsel's Office
The Parliamentary Counsel's Office (PCO) has issued advice regarding the drafting and notification processes for making delegated plans, which can be found at PCO – Information. PCO also has resources to assist in the drafting process, which can be found at PCO – Resources.
Model clauses
Additional provisions (commonly referred to as 'local provisions' or 'model local clauses') are local clauses that have been settled by the Parliamentary Counsel's Office that address common topics raised by councils in their standard instrument LEP preparation. The use of settled clauses reduces the time required to amend a standard instrument LEP.
Where councils would like to use one or more of the examples provided but wish to make some minor alterations to suit their specific circumstances, these may be considered with the appropriate justification, although we recommend that they be adopted 'as is' wherever possible.
For further information please contact your relevant place or regional team.
Land use matrix
The land use matrix (XLSX, 177 KB) is an Excel spreadsheet that identifies standard land use terms, standard zones and permissibility. It has been prepared by the department to assist councils with the preparation of local environmental plans consistent with the Standard Instrument (Local Environmental Plans) Order 2006. The matrix also includes permissible land uses under a number of state environmental planning policies.
Councils can complete the matrix of intended permitted and prohibited land uses to assist in discussions with the department about their draft plan. Instructions on how to complete the matrix are provided under the 'Instructions' tab of the Excel spreadsheet.
Important note: This information does not constitute legal advice. Users are advised to seek professional advice and refer to the relevant legislation, as necessary.
Disclaimer: While every reasonable effort has been made to ensure that this document is correct at the time of publication, the State of New South Wales, its agencies and employees, disclaim any and all liability to any person in respect of anything or the consequences of anything done or omitted to be done in reliance upon the whole or any part of this document.
Using departmental data
The department provides regular and insightful information on demographics, forecasting and population change at Research and demography.