There are 2 new parks included in the plan for Waterloo south. These provide green, open spaces where the community and visitors can enjoy a range of outdoor activities.
The plan also includes courtyards in the middle of some blocks. These are designed to give residents in the surrounding buildings an outdoor area close to their homes.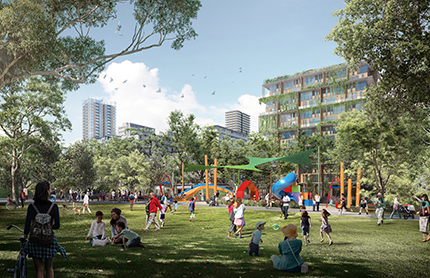 Main park
The main park is over 2 hectares in size – about the same size as 2 football fields – making it big enough to be used by many groups of people at the same time.
It will provide Waterloo residents and visitors with an outdoor space that can be used for a range of recreational activities such as field sports, cycling and walking. The park has been planned with the view that it will be used for both day and night time activities and will be accessible to people of all abilities.
The main park is located next to Waterloo metro station and bound by Cope, George, Raglan and Wellington streets.
Small park
A new, smaller park is surrounded by Cope Street, John Street, George Street and McEvoy Street. The park is square-shaped and has a building for community facilities located on the George Street side.
The park will suit activities such as smaller group exercise, children's play and walking. Being smaller, it offers a quieter place for people to enjoy the outdoors.
Four walkways connect the park to Cope Street and George Street, to make it easier to get to and from the park from different sides of Waterloo south.
There is also a shared connection to John Street, meaning it can be used by cars, pedestrians, and cyclists.